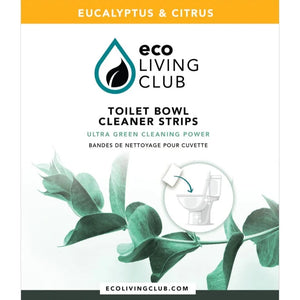 eco Living Club
Toilet Bowl Cleaner Strips
Regular price
$6.25
$0.00
Unit price
per
Enjoy these lightweight toilet bowl cleaner sheets that are small & easy to use, scented with essential oils only (Eucalyptus & citrus). Septic tank / Grey water friendly, 100% Biodegradable, Free of bleach & chlorine.
$1.25 deposit is included in the price of REFILLs. Orders of 84 Cleans will come wrapped in paper rather than a mason jar. 
About eco Living Club: After seeing plastic islands in the ocean made up of laundry detergent jugs, eco Living Club owners decided to make change. Their goal is to create an eco laundry detergent that is green, clean and easy.
Directions: Easy to use! Just tear on the perforated line and toss one strip directly into the toilet and scrub as usual. Each sheet contains three cleans. 
Ingredients: Sodium dodecyl sulfate, Polyvinyl Alchohol, Aqua, Caprylyl/Myristyl Glucoside, Cocamidopropyl Betaine, Lauramidopropylamine Oxide, Polyglycerol-4 Caprate, Polyglyceryl-6 Caprylate, 1,2-Pentanediol, Glycerin, Sodium citrate, Dimethicone, Saponins, L-Glutamic acid,N,N-bis(carboxymethyl)-,, sodium sal, Sodium carbonate, 2-Phenoxyethanol, Essential Oils Erioglaucine Disodium Sait 
---