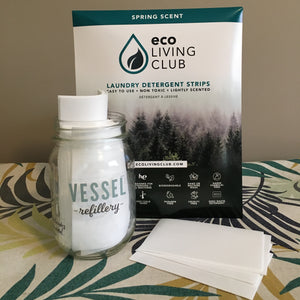 eco Living Club
Laundry Strips - Spring Scent
Regular price
$7.75
$0.00
Unit price
per
A minimalist eco laundry detergent that challenges the traditional pods and plastic jugs of the past. These strips are easy to use, mess-free, and perfectly portioned. Reduce your detergent waste & cost. One strip = one load. 
$1.25 deposit is included in the price of REFILLs. Orders of 100 strips will come wrapped in paper rather than a mason jar. 
About eco Living Club: After seeing plastic islands in the ocean made up of laundry detergent jugs, eco Living Club owners decided to make change. Their goal is to create an eco laundry detergent that is green, clean and easy.
Directions: Place the strip in your washing machine. For front loaders, simply place it in the detergent dispenser. Extra soiled load? Use two strips. Handwashing? Use half a strip or less. 
Ingredients: Water (Solubilizer). Sodium Dodecyl Sulphate (Detergent), Polyvinyl Alcohol (Softener), Glycerol (Cosolvent), Glyceryl Cocoate (Detergent), Fatty Alcohol Polyglycol Ether (Detergent), Trisodium Citrate (Water chelating agent), Saponins (Detergent), Parfum (scented only), 2-Phenoxyethanol (preservative), Protease Enzyme (Protein Stain High Efficiency Detergent)
---