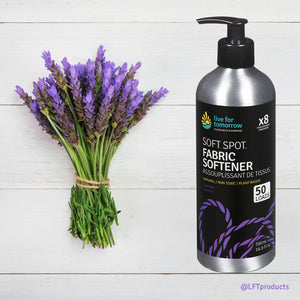 Live For Tomorrow (LFT)
Fabric Softener, Lavender
Regular price
$8.25
$0.00
Unit price
per
Live for Tomorrow (LFT) presents "Soft Spot" Fabric Softener. Thanks to an infusion from the purest of essential oils working in harmony with natural, non-toxic ingredients, LFT's soy-based liquid formula leaves clothes soft-to-the-touch and subtly smelling of Lavender. 8x concentration mean you'll get more for less. 
Hypoallergenic, Biodegradable, Phosphate Free, Safe for septic systems
$1.25 deposit is included in price of REFILLs. 
About Live for Tomorrow: LFT a brand of non-toxic, plant and mineral based cleaning products made in Metro Vancouver that is designed with zero waste in mind.
Directions: Small load: 3 - 4 pumps | 6mL - 8mL| 1 - 2tsp, Medium load: 4 - 6 pumps| 8mL - 12mL| 1.5 - 2.5tsp, Large/Heavily soiled load: 5 - 8 pumps | 10mL - 16mL | 2 - 3.5tsp.
To Pre-treat: Squirt a dime-sized amount onto the stain, allow to stand, then wash as usual.
To Wash: Squirt detergent into product tray or directly into the machine.
Ingredients: Purified Water; Methyl Bis (soya amidoethyl); -2-Hydroxyethyl Quaternary Ammonium Methyl Sulphate (Plant based softening agent); Lauramine Oxide (Plant based cleaning agent); Lavandula Hybrida (Organic essential oil); Isopropanol (Solvent); Potassium Sorbate (Food grade preservative).
---