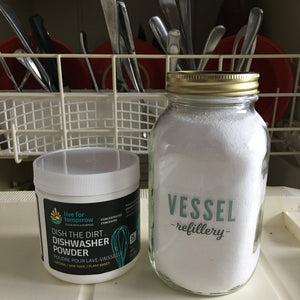 Live For Tomorrow (LFT)
Dishwasher Powder
Regular price
$5.25
$0.00
Unit price
per
Load your dishwasher with a healthier, natural and non-toxic cleaning product that truly performs. Just one scoop Live for Tomorrow's Unscented plant and mineral based powder will leave your dishes clear of debris and free of residue.
Hypoallergenic, Biodegradable, Phosphate Free, Safe for septic systems
$1.25 deposit is included in the price of REFILLs. 
About Live for Tomorrow: LFT a brand of non-toxic, plant and mineral based cleaning products made in Metro Vancouver that is designed with zero waste in mind.
Directions: Fill machine's prewash cup with 1 teaspoon (5ml) and main wash cup with 1 tablespoon (15ml) of powder. DO NOT pre-soak silver or cast iron.
Ingredients: Sodium Carbonate, Sodium Percarbonate (Natural stain remover); Sodium Carboxymethyl Inulin (Water Softener); Sodium Metasilicate (Degreaser and Cleaning Agent)
---