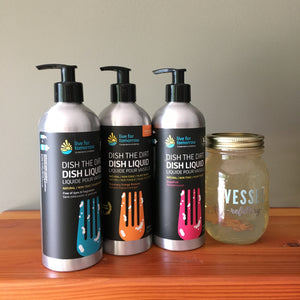 Live For Tomorrow (LFT)
Dish Liquid
Regular price
$5.95
$0.00
Unit price
per

Live for Tomorrow (LFT) dish liquid tackles grease-laden dishes. 2x concentrated, this is a plant and mineral based, natural & non-toxic dish liquid. Scented using only pure essential oils - 
Grapefruit, Rosemary Orange Blossom scents available.
Hypoallergenic, Biodegradable, Phosphate Free, Safe for septic systems
$1.25 deposit included in the price of REFILLs. $3 deposit on growlers.
About Live for Tomorrow: LFT a brand of non-toxic, plant and mineral based cleaning products made in Metro Vancouver that is designed with zero waste in mind.

Directions:  Squirt detergent onto cleaning applicator and use. For best results, use with warm water. These suds are for your sink. Not for use in Auto Dishwasher machines.
Ingredients: Purified Water; Sodium Methyl -2-Sulfolaurate/Disodium 2-Sulfolaurate, Lauramine Oxide, Caprylyl/Myristyl Glucoside (Plant based cleaning agent); Glycerine (Foam stabilizer); <Grapefruit Scent: Citrus Paradisi (Organic essential oil)>, <Rosemary Orange Blossom Scent; Rosmarinus Officinalis Leaf Oil, Lavandula Hybrida Oil, Salvia Sclarea Oil, Citrus Aurantium Dulcis Peel Oil (Organic essential oil)>; Sodium Chloride (Thickener); Sodium Carbonate (Water conditioner); Potassium Sorbate (Food grade preservative); Citric Acid (Natural pH modifier); Sodium Hydroxide/Sodium Chloride/Sodium Carbonate (Mineral based cleaning agent)
---