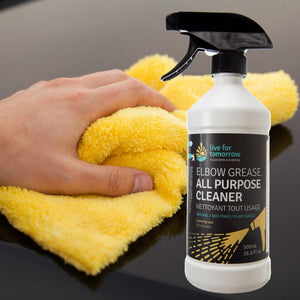 Live For Tomorrow (LFT)
All Purpose Cleaner, Lemongrass
Regular price
$5.25
$0.00
Unit price
per
This highly concentrated Lemongrass scented All Purpose Cleaner works so well it's nicknamed it "Elbow Grease". This coconut and citrus-based formula will leave even the hardest working surfaces of your home fresh and clean with little effort on your part. Biodegradable & Phosphate Free
$1.25 deposit is included in the price of REFILLs.
About Live for Tomorrow: LFT a brand of non-toxic, plant and mineral based cleaning products made in Metro Vancouver that is designed with zero waste in mind.
Directions: Spray and wipe clean. For heavy and stubborn soils, allow to sit for 1 minute. For surfaces, fill cleaning solution to "5-1" indicator, fill with water to top "Fill Ring". For floors, dilute with water - ½ cup (125mL) to a bucket of water. Increase concentration for heavily soiled floors. Not suitable for waxed or polished surfaces.
Ingredients: Purified Water; Coco-Glucoside (Plant based cleaning agent); Sodium Carbonate (Alkalinity builder); Sodium Citrate (pH stabilizer); Citrus Aurantium Dulcis Peel extract (Plant based cleaning agent/Essential oil); Cymbopogon Citratus (Plant based cleaning agent/ Organic essential oil); Potassium Sorbate (Food grade preservative)
---