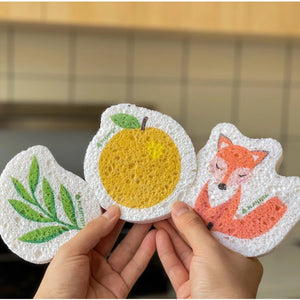 Plantish
Pop Up Sponge
Regular price
$3.50
$0.00
Unit price
per
This set of 3 Pop-up Sponges, inspired by our popular Swedish Dish Cloth designs, are another great zero waste swap for your kitchen. Made of 100% vegetable cellulose (wood pulp), these kitchen sponges feel and function like traditional sponges but are completely plant-based, plastic-free and compostable.
Dimensions: Dry: 11 x 9cm or 4.33 x 3.54in Wet: 10 x 12cm or 3.93 x 4.72in

Disposal: cut in small pieces, then place in the green bin to compost or directly compost in the backyard.


---